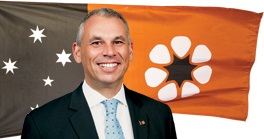 13 May 2015. One of the Territory's premier fishing competitions, the NT Barra Classic, will be broadcast around the world this year with an Italian film crew set to cover the event.
"Italian Fishing TV will showcase the Top End as a must-do fishing holiday to hundreds of thousands of viewers in Europe, the Middle East and Northern Africa," Chief Minister Adam Giles said.
"Most anglers visiting the Territory come to catch the iconic Barramundi. Now, Italian audiences will get the chance to see what all the excitement is about with Italian Fishing TV to broadcast five 20 minute episodes featuring different fishing adventures in the Territory.
"The episodes will include coverage of the NT Barra Classic which is regarded as one of Australia's premier Barramundi fishing tournaments, held on the Daly River, 250 km south of Darwin."
The fishing show crew will also try their luck with Saratoga at Corroboree Billabong, fish the illusive Barramundi at Dundee Beach and Mary River and go blue water fishing on Darwin Harbour.
The episodes will be broadcast over five months starting from June this year.
"The episodes will promote travel to the Territory in the off-peak and shoulder seasons, which coincides with the best time to fish," Mr Giles said.
Italian Fishing TV is a cross media project all dedicated to the fishing world that includes a satellite TV channel, website and social networks.
The satellite TV channel is dedicated to fish lovers and has an audience of 62 000 daily viewers in Italy. They also broadcast to other parts of Europe, the Middle East and Northern Africa.
Last year, their website recorded more than half a million unique viewers. http://www.italianfishingtv.it/
"This initiative is part of the Territory Government's plan to lure more overseas holiday-makers to the Territory by targeting non-travel media," Mr Giles said.
"The fishing tourism industry's total economic contribution is estimated at $26 million per year, with $22 million of this generated by interstate or international visitors to the Territory.
"Targeting this lucrative niche market is just one of the innovative ways Tourism NT is working towards increasing visitor numbers and expenditure by 2020."