Written by Whats On Australia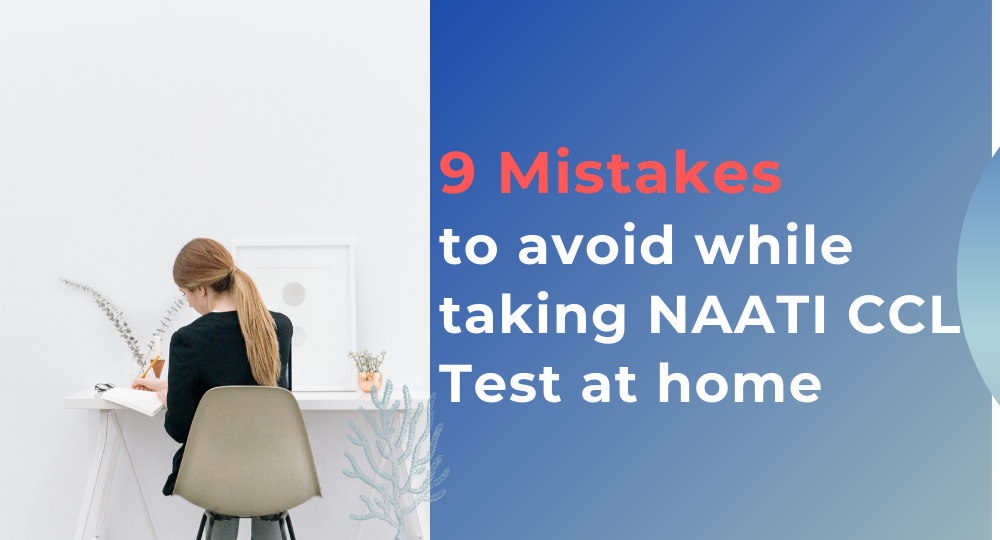 Applications for Australia PR under the skilled-based migration visa category are significantly increasing with grown awareness about the visa convenience and characteristics. You must be one of those applicants who look forward to making Australia their home. You are in the right place.


By now, you must have considered taking the NAATI CCL Test and achieving those 5 PR points to add on a few more points for your Australian PR application. But making a mistake during this important test can easily disqualify you from obtaining any of it. If you got a tight schedule you can always do Online NAATI CCL Preparation. There are various reliable specialists for it such as CCL Tutorials.


This blog post will let you know the common mistakes that the candidates make while taking the NAATI CCL Test at home & the test center as well are.


You will also get insight into how to avoid these mistakes. Here is the list of things that may go wrong in taking the Online NAATI CCL Test:


Device/Technical Problems
To appear for the exam at home, you'll have to be prepared. Ensure that all hardware works fine including your computer, phone & headset. Perform the testing suggested by NAATI officials before taking this test, so that everything goes smoothly.
Internet Connectivity Disruption
Poor internet connectivity will disrupt connection and cause audio quality issues. To ensure optimal testing, NAATI recommended that you have a minimum download speed of at least 1.5Mbps and an upload speed of 10Mbps.
Poor Audio Quality
If you're taking the test in a noisy environment, it will be difficult to hear the recording properly and so your score may not reflect your good performance.
The best place for taking the test would be somewhere quiet where there isn't anything distracting like people speaking or traffic noise; otherwise, you can end up with a low score.
No Rescuer
Since there will be no examiner physically present to clarify your doubts during the test, it is advised that you go through the instructions beforehand and get all the information & tips you can get. This way, you will be able to tackle the issue if in case anything comes up.
Other possible mistakes which are ought to happen in both 'at home' & 'at center tests' are
Omission
Omission of information is another common error that candidates tend to make while translating. This results in sharing partial information communicated in the dialogue, which can be seen as ineffective communication because you may miss out on the key details and parts of the conversation/dialogue- this often leads to a lot more questions than answers in a real-time situation!
Listen closely with full concentration, so that you don't miss anything important. Continually summarize what has been said up until now into your target language without getting stuck on any one phrase or sentence.
Insertion
It does matter if you add irrelevant or unnecessary input because it will affect your score! Make sure not to include any additional phrases which aren't spoken in the dialogue.
DO NOT get carried away & use more than necessary words or wrongly showcase your language skills. Keep it brief and include information as stated.
Less Accuracy
When candidates do not understand the context or meaning of a dialogue, they end up interpreting information incorrectly. This is usually because they're listening passively and lack knowledge about common exam topics. This would make them keep interpreting inaccurately during the exam.
To avoid this from happening, you should regularly practice by actively engaging in listening activities as well as acquiring more general knowledge on NAATI CCL Test topics before sitting for the test!
Distortion
Distortion means altering the meaning of a conversation or text by using incorrect word choices. Practice vocabulary as much as you can to avoid this type of mistake.
Grammar Mistakes.
Things become a little tricky when it comes to grammar for both your LOTE and English Language. Examiner will deduct marks for each grammar mistake. Therefore, tenses, verb choice, word forms should be given focus upon.
You don't have an hour
All the time you got is 20 minutes so speed up. Speeding up isn't in the sense that you speak faster but built time management. A neutral pace must be maintained to achieve a good score.
Taking long pauses, multiple dialogue repetitions, excess note-taking are some mistakes that cost you both - Marks and Time.
Self-preparation could be confusing and tedious. If you are planning to apply soon, go for online NAATI CCL coaching as it is convenient and result-oriented. Professionals will guide & train you as needed to ace the exam. Utilize CCL Tutorials FREE Mobile app to practice anytime, telegram group to get your doubts cleared, and avail unlimited free practice with this best in class Online NAATI CCL Preparation.