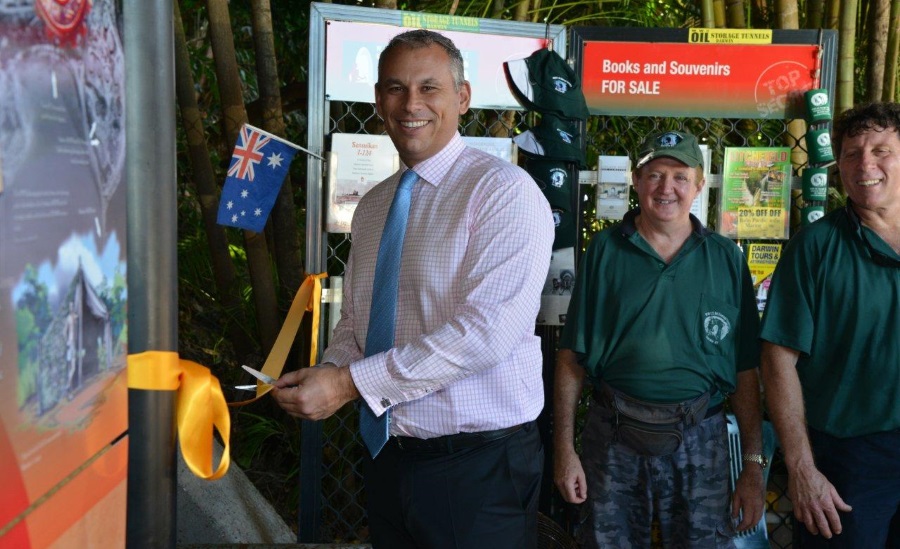 Chief Minister Adam Giles today got a sneak peek at the new-look displays at the World War II Oil Tunnels under the hill behind the Darwin waterfront.
"The Tunnels are a hidden treasure that all Territorians and visitors should experience," Mr Giles said.
"They're already a big tourist drawcard for Darwin, attracting about 22 000 people each year, but we want to see that expand even further by enhancing the visitor experience.
"The Territory's World War II heritage is one of its greatest tourism assets but we need to make it more accessible to visitors and these informative new displays help explain this fascinating chapter of Australian history.
"The new displays are fantastic and Darwin residents should come down and have a look during the official opening
this Saturday
between
10am and 1pm
. Entry is by donation and all proceeds from the day go to Legacy."
The new interpretive signs were funded with the help of a $40 000 investment under the Territory Government's Tourism Infrastructure Grants Program.
"As part of Budget 2015, my Government expanded this hugely successful program and is now offering a new $4.75 million Tourism Infrastructure Development Fund for the development of new and improved visitor products," Mr Giles said.
The new signs help portray the purpose of the tunnels, what life was like for the people who worked in them, their stories and their experiences of the Bombing of Darwin.
"This upgrade responds to the growing interest of consumers in military history, particularly among cruise ship passengers, enhancing their visitor experience," Mr Giles said.
Rob Marchant from Darwin Tours said the project is a great addition to the military history experience on offer to visitors.
"I'm about four feet off the ground. It's all happening. This has been 20 years in the making. The new displays in the tunnels actually give a good history of Darwin so can people car really see how Darwin developed," Mr Marchant said.
The upgrade also includes a new moving 'digger' sculpture in the tunnels, made completely from WWII relics.
"A lot of people see the new digger and just go wow. We're already starting to see new business and as soon as news gets out about the new Digger people are going to want to come and see it for themselves," Mr Marchant said.