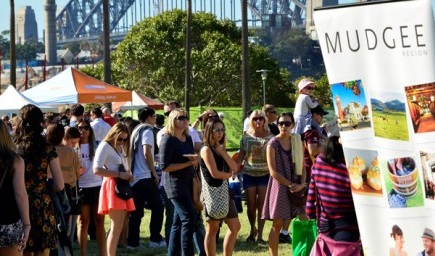 The Pyrmont Festival of Wine, Food and Art kicks-off this weekend with a 10-day program of fine dining experiences, gourmet wine tastings and creative art by residents and local school children.
Hosted by the Pyrmont Ultimo Chamber of Commerce and supported by the City of Sydney with $50,000 funding, the festival will feature some of Sydney's best restaurants, partnering with the best wineries and gourmet food producers from Mudgee from 15 to 24 May.
The festival includes degustation dining, progressive dinner walks, a 10-course banquet, long lunches and more. The highlight will be a 2-day event at Pirrama Park on Saturday 16 and Sunday 17 May, with live music, children's entertainment, art exhibitions, the prestigious Pyrmont Art Prize, and 100 stalls featuring Mudgee winemakers and gourmet food samplings.
Lord Mayor Clover Moore said the festival was a celebration of everything the Pyrmont village has to offer, which gets bigger and better every year.
"The City is proud to support our local small businesses and delighted to welcome back some of the best winemakers from regional NSW," the Lord Mayor said.
"Thanks to funding from the City, the festival has grown substantially since it began four years ago.
"It mixes the best of Pyrmont and Mudgee with wine tasting, delicious gourmet food and local art and entertainment by the water's edge.
'I encourage Sydneysiders to take the time to visit Pyrmont during the festival and enjoy everything on offer."
The Pirrama Park event is expected to attract more than 20,000 visitors, three times more than the inaugural event in 2011. Entry is free and includes the annual Pyrmont Art Prize exhibition. Now in its 9th year the exhibition will feature more than 300 artworks by local artists on canvases for sale.
There will also be an exhibition of artworks by children from five local primary schools, and a group of artists from the Mudgee region will create a sculpture garden.
Top Pyrmont restaurants taking part in the festival include Signorelli Gastronomia, Flying Fish, Blue Eye Dragon, The Pesian Room, Café Morso, Bar Zini and Brio.
For the full program, visit pyrmontfestival.com