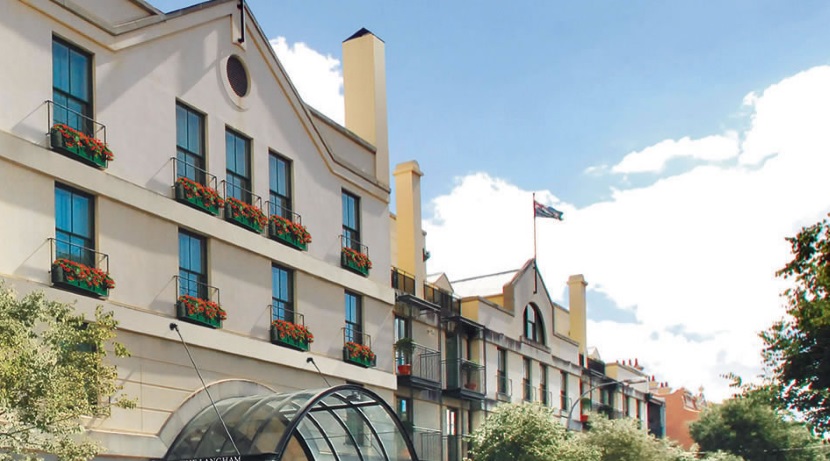 June 2015; Sydney, Australia: After being the only Australian property listed as one of The Top 100 Hotels In The World earlier this month by prestigious US Robb Report, The Langham, Sydney has secured a perfect trifecta at The 2015 Gourmet Traveller Hotel Awards last week, taking out three of the twelve awards; the most awards any one hotel has received in the history of the event.
"We are thrilled to be recognised by such a sophisticated lifestyle brand as being the best of the best for hotels in Australia in 2015" commented General Manager, Sonia Lefevre, who accepted all three awards on Tuesday evening.
The Langham, Sydney secured New Hotel Of The Year, the coveted Best Club Sandwich and 2015 Hotel Of The Year at the country's only national awards, which coincides with the release of the 2015 Gourmet Traveller Australian Hotel Guide this month.
"Best Club Sandwich represents complete indulgence for any hotelier; so we are thrilled to take out what can only be described as Australia's coolest foodie award" said Lefevre.
Australia's best club reads something along the lines of; six white-toast triangles skewered in a row, stratified with with leg ham cut from the bone, house-smoked chicken, two layers of curried egg, lettuce leaves and cucumber. A combination which received an astonishing 9/10 from a panel of Gourmet Traveller critics.
The awards, hosted by Catriona Rowntree are attended by Australia's pre-eminent hoteliers and travel industry experts each year.
Hosted at The Langham, Sydney in 2015, guests were treated to jazz and Nespresso Negroni's upon arrival in opulent Palm Court Bar, followed by a three course dinner in European chic, Kent Street Kitchen. Dessert saw Kent Street Kitchen's famous three metre white marble Chefs Table converted into a whimsical wonderland of macarons, bon-bons, gatteauxs and cakes mixed amongst abundant florals and stunning Wedgwood tiers, teapots and tea cups overflowing with delicacies.  
All dessert items on the table were hand-curated by Langham's patissiere, Chef Miguel Jocson.
As for what exactly was consumed at the 2015 Gourmet Traveller Awards; a chic menu of Chard cauliflower Tartar, Ossetia caviar, Quail egg, watercress gelee; Smoked ocean trout Escabeche with Rocket, lemon pearl, pumpernickel; Butter poached Western Australia Marron Handmade Linguine, Black French truffles, Burnt onion butter and lamb bacon; Twice braised Tasmanian wilderness Beef short rib, Parsnip Puree, Brussels sprouts and Bone Marrow Fluid Gel, designed and produced by new gun Executive Chef, Thomas Heinrich, who produced some serious cuisine for a room full of "foodies" on his second official day on the job.
"I've been working on this menu for a month behind the scenes and I wanted it to reflect the sophistication of our hotel, Kent Street Kitchen as an excellent stand-alone restaurant and Gourmet Traveller but it certainly was a baptism by fire to be plating up for 120 of the country's most experienced foodies on the second night inside my new kitchen".
"I won't, lie. Cooking at that calibre in the first week. I loved it" said Chef Thomas Heinrich who joins The Langham, Sydney in 2015 a strong five star hotel background including international Michelin star restaurant experience.
2015 GOURMET TRAVELLER HOTEL GUIDE AWARD WINNERS
Hotel of the Year: The Langham Sydney, NSW
New Hotel of the Year: The Langham Sydney, NSW
Large Hotel of the Year: Crown Towers, Melbourne, VIC
Boutique Hotel of the Year: Hotel Hotel, Canberra, ACT
Regional Hotel of the Year: Pumphouse Point, TAS
Best Service: Park Hyatt Sydney, NSW
Best Breakfast: Grand Hyatt Melbourne, VIC
Best Pool: Soul Surfers Paradise, QLD
Best Bar: Hotel Hotel, Canberra, ACT
Best Club Sandwich: The Langham Sydney, NSW
Best Minibar: Mona Pavilions, Hobart, TAS
Innovation of the Year: Next Hotel Brisbane, QLD
The Gourmet Traveller Guide reviews are 100% anonymous. The magazine additionally pays for all reviewer stays in the hope of creating an authentic and fair review culture.
"2015 Hotel Of The Year is an incredible accolade only six months into re-opening doors. We are still pinching ourselves a week later and working out where to put all the Awards" smiles Lefevre.