Written by

Andrew Mevissen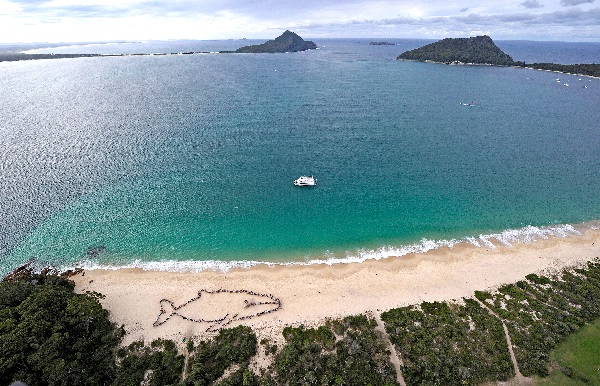 A new, month-long program of events in Port Stephens called Naturefest has been launched for June, 2015, to celebrate and promote the region as one of NSW's premier nature destinations.
Beginning with half-priced whale watch cruises celebrating the start of the whale season in Port Stephens on June 1 and ending with the formation of large human whale on June 29, Naturefest aims to draw nature-lovers to the region, 2½ hours north of Sydney, to enjoy its large populations of dolphins, koalas, kangaroos, birdlife and passing whales as well as large tracts of national park and the State's biggest marine park – the 98,200-hectare Port Stephens-Great Lakes Marine Park.
Organised by Destination Port Stephens, Moonshadow Cruises, Tamboi Queen Cruises, Imagine Cruises and d'Albora Marina Nelson Bay, the inaugural 2015 Naturefest program incorporates World Oceans Day on June 8 and the start of the winter school holidays on June 26 and includes a month-long program of events and activities designed to foster interaction between visitors to Port Stephens and the region's abundant natural beauty and wildlife.
The program includes:
* Monday June 1 – Official launch of whale-watch season, which promises a record 18,000 humpbacks passing close to Port Stephens from now to November. Official celebrations at d'Albora Marina Nelson Bay at 9am, followed by half-priced whale-watch cruises, weather permitting, from 10am with Moonshadow Cruises, Tamboi Queen Cruises and Imagine Cruises.
* Saturday June 6 and 13 - Guided 3km 'Whale Tale' bushwalks through Tomaree National Park near Boat Harbour to spot whales and learn about the bush from 1-3pm. $25 for adults, $15 for children and $60 for a family of four. Book online at www.portstephens.org.au.
* World Oceans Day – Monday June 8 – Public holiday – Port Stephens whale and dolphin expert, Frank Future, from Imagine Cruises, will oversee a dolphin census, inviting the public to send in dorsal fin images of as many of Port Stephen's 170 bottlenose dolphins as possible on the day. Images can be emailed t marineparksassociation@gmail.com. The Irukandji Shark and Ray Encounters centre in Port Stephens will also run a family fun day including games and colouring competition on June 8, with half of all ticket sales on the day supporting the Australian Marine Conservation Society.
* Saturday June 27 - Ocean & Coastal Care Initiatives (OCCI) Whale Tale Headland Day at Barry Park, Fingal Bay in Port Stephens – 10.30am-2.30pm with barbecue, games and whale lectures with prime whale viewing points available for landlubbers. Gold coin donation.
* Monday, June 29- (during school holidays) – Human Whale. Almost 800 people formed the shape of a giant human whale on the beach at Port Stephens last year to celebrate the whale season and this year organiser, Frank Future, is hoping for more than 1000 people to make the spectacular image. Register at 10am for the noon start of the whale shape on Shoal Bay Beach. Free family event, especially for visitors, with aerial pictures to be taken.
During June, Moonshadow Cruises, Tamboi Queen Cruises and Imagine Cruises will also be running daily whale-watch and dolphin cruises from d'Albora Marina Nelson Bay. Combo packages including whale or dolphin cruises and sandboarding on Australia's biggest sand dunes are also available.
For visitors on the north shores of Port Stephens, Tamboi Queen Cruises and FerryLink offer whale-watching combinations that include the ferry transfer from Tea Gardens or Hawks Nest to connecting whale or dolphin watch cruises daily from Nelson Bay.
Destination Port Stephens CEO, Janelle Gardner, said Naturefest was an exciting new initiative designed to position Port Stephens as a unique and compelling nature destination where scenic beauty and an abundance of wildlife could be easily enjoyed. "Dolphins, koalas, kangaroos, birds and other wildlife make beautiful Port Stephens their home and more humpback whales visit us every winter so we want to share this natural splendour with visitors which is why local cruise operators and Destination Port Stephens have worked together to launch our first Naturefest program," Ms Gardner said.
For cruise bookings and information on all Naturefest events, visit www.portstephens.org.au.
For general information on accommodation, dining, maps and holiday deals, visit the official website for Destination Port Stephens – www.portstephens.org.au.