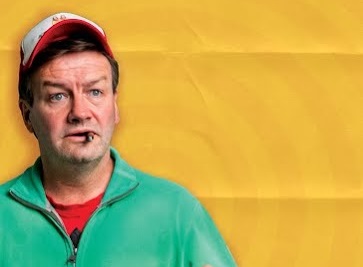 Sydney 26 May 2015. Surely Not! takes Sydney Comedy Festival award
Veteran Aussie funny-man Lawrence Mooney may have called his show Surely Not!, but it surely did: he just took out the coveted gong of Local Best of the Fest at the Sydney Comedy Festival. By popular demand, new shows have been announced for Friday 20th and Saturday 21st November at The Comedy Store, EQ Moore Park, Sydney.
"Lawrence Mooney… is an absolute joy and right now, he's performing some of his best work yet." – The Music, April 2015
Surely Not! is a comedic reflection on all things prompted by the demise of a family member in the UK. The mournful event is the motivation behind a journey for Lawrence with his two brothers. The trip prompts a lot of reflection on life and death and relationships, from which he extracts an unforeseeable amount of comedy and a healthy dose of empathy.
As seen on Dirty Laundry Live and Its A Date, he is one of the most versatile performers in the country with a solid background as an intelligent, fast thinking Stand Up Comedian.
Throughout his seasoned career, Mooney has won Best National Act at the Perth Comedy Festival, has been nominated twice for the prestigious Barry Award for best Melbourne International Comedy Festival show, won Melbourne Fringe Best Comedy Award and the Crikey Best of the Fest at the Melbourne International Comedy Festival.
Surely Not to be missed, don't miss this great opportunity to see one of Australia's comedic national treasures in his award winning performance!
"Rare to see an act so mature, refined and funny" – THE AGE
"There were audible gasps for air from the audience, they couldn't take any more sidesplitting laughter." – THE MUSIC
"★★★★. There are few safe bets at the Comedy Festival: Lawrence Mooney is one. "– HERALD SUN
"★★★★. Mooney has a great stage presence. Very like-able, and even a little charming." – THE CLOTHESLINE
What:              Surely Not!
Venue:           The Comedy Store
Entertainment Quarter, Moore Park
Dates:           
Friday 20th November, 2015 @ 7pm
Saturday 21st November, 2015 @ 7pm
Tickets         comedystore.com.au or phone 02 9550 3666
Cost:               $37.00
More info:     facebook.com/lawrencemooneyofficial
twitter.com/lawrencemooney