Written by

Melissa Wilson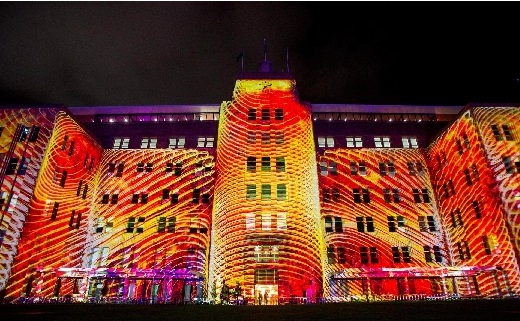 Vivid Sydney, the world's largest festival of light, music and ideas, has lit up the Harbour City as the much anticipated annual 18 day event, on this year from 22 May to 8 June, got underway.
Sydney's iconic landmarks, its Harbour and urban spaces were transformed by 3D projections and over 60 light installations including the sails of the World Heritage Sydney Opera House.
Just seven years since it first began, Vivid Sydney will again take its visitors from across the world on a journey of creative discovery using light, music and ideas as its platform.  Last year the Festival welcomed 1.43 million people.
"For 18 days and nights visitors will experience Sydney like never before as the city bursts with creativity and sheer, brilliant light.  It's truly an un-missable event, and one which we are very proud of," said NSW Minister for Trade, Tourism and Major Events, Stuart Ayres.
Vivid Light stretches across The Rocks, Circular Quay, Darling Harbour, Walsh Bay, Martin Place in the Central Business District, The Star & Pyrmont as well as new areas for Vivid in 2015 – Central Park in Chippendale, awarded the world's best tall building, and Chatswood to the city's north.
Lighting artists from around the world were invited to submit their creative ideas, with 140 chosen from 16 countries to create their unique works during Vivid Sydney.
The Vivid Music program of cutting edge music including Vivid LIVE at Sydney Opera House showcases unique performances and collaborations, presenting over 90 performances in venues across the city including Grace Jones, Sufjan Stevens, Daniel Johns and legendary Australian band The Hoodoo Gurus.
Vivid Ideas brings audiences some of the most intelligent and creative minds, who will be together for talks, seminars, conferences, workshops and forums on a grand scale.  With 150 sessions and over 400 speakers, the Vivid Ideas program boasts highlights including Multi-Emmy winning writer Matthew Weiner – series creator and exec producer of Man Men and former executive producer of The Sopranos, and Tyler Brûlè, founder of Wallpaper and Monocle magazines and one of the most influential global figures in publishing and branding. Weiner and Brûlè will share their insights following their worldwide success in the creative industry.
"Each and every year, Vivid Sydney aims to connect and inspire people in a shared, vibrant, multi-coloured experience. Vivid Sydney puts art into the hands of the public, giving visitors a visually triumphant feast of artistic and technical innovation," said Sandra Chipchase, Chief Executive Office of Destination NSW, the State Government's tourism and major events agency, which owns and manages Vivid Sydney.
Some Vivid Sydney Top Picks:
1. See the Harbour in a spectacular new light
The famous Sydney Opera House will once again transform the sails into a colourful Living Mural from UK company, Universal Everything. Harbour Lights will see a fleet of boats change colours as they ferry through the waterways, and Paint The Town will let visitors take control of the city's skyline and illuminate it in a rainbow of bright lights.
2. Visit the Argyle Cut to hear from Sir David Attenborough
Get lost in the magic of Mother Nature and hear a few words from Sir David Attenborough at The Argyle Cut from 7pm each week night, and 6pm on weekends. Life Story is based on four years of footage that was captured for BBC's Life Story TV series and will bring The Argyle Cut to life with flowing natural imagery of birds, marine and animal life.
3. Hug a three-metre crocheted Dolly
Visit Dolly for a Vivid Sydney hug. The three-metre crocheted installation will surely be a favourite for young and old, as well as popular photo spot with the Sydney Opera House in the background. Don't forget to #ilovesydney.
4. Martin Place hang-out space  
Spend some time in Martin Place to see incredible light installations including Robotanic, Spectra and Drum Circle. Then take-on your friends with Intel's a game of drones before heading to Transcendence, an incredible construction that boasts Real Sense technology, live art projections and some of Sydney's best food offerings including Porteño, Thievery, Agape Organic, Cantina Mobil and the world-renowned Cow and the Moon.
5. Head to Chatswood and Sydney University
Vivid Sydney has expanded in 2015 so be sure to get to Chatswood to learn the underwater aquatic story of Norbert and The Nautilus and visit the Cabana Bar and 4 Pines Rooftop Bar at Night Markets at The Concourse for some refreshments.
The University of Sydney's Vivid Path to the Future program kicks off from Monday 25 May and is worth a visit to experience its biggest program ever of Light, Music and Ideas. Think awe-inspiring building projections, Little Creatures Craft Beer bar and a jam-packed music program at the Seymour Centre. Get there.
6. Dance lovers, head to Central Park on a Friday or Saturday evening
Love to dance? Then head to Vivid Sydney's new precinct, Central Park, on a Friday or Saturday night to bust a groove alongside Reko Rennie and Beastman's street art inspired installation, at Silent Disco from 7.00pm. Choose your beats and dance along to tracks from two different Propaganda DJs, and then head upstairs to Keystone's pop-up bar for a drink whilst overlooking the entire activation.
7. Sweet songs and sweet treats
After controlling electronic fireworks at Pyrmont Pyro in Pyrmont Park, head to the Vivid Lounge at Sky Terrace at The Star. Karaoke lovers can sing their favourite hit as their face is projected onto a nearby wall, and gamers can hit the video gaming station to relive their childhood. Also be sure to grab a sweet treat from The Star's pop-up festival dessert bar.
8. Selfie lovers delight: Learn how to take the perfect snap
Chat with a roaming Canon ambassadors along the Circular Quay Light Walk who will give tips on how to take the perfect shot of Vivid Sydney whether it's on a smartphone or SLR. Then head over to the You Are Here installation to master the perfect selfie with the Sydney Opera House as the background.
9. Eat, drink and celebrate everything Italian at Modulations at Carriageworks
If you love good food and Italian disco, then be sure to head to ITALO DINING AND DISCO CLUB to enjoy a dish at a pop-up restaurant from the incredible chefs from Icebergs Dining Room & Bar, Da Orazio Pizza + Porchetta, Fratelli Paradiso and 10 William St. Whilst devouring a bowl of pasta, guests will be entertained by Italian disco legend, Beppe Loda.
Dates: 31 May, 1 June, 2 June, 5 June, 6 June, 7 June.
10. Gamers and YouTube fans rejoice
The first ever event of its kind in Australia, Game I ON is worth a visit for anyone who is into gaming, social media, YouTube, vlogging and creating or developing. Some of YouTube's biggest stars including fouseyTUBE, Jayesslee and The Royal Stampede will share their digital secrets at the Australian Technology Park from 22-24 May.
Visit www.vividsydney.com for the full Vivid Sydney program.