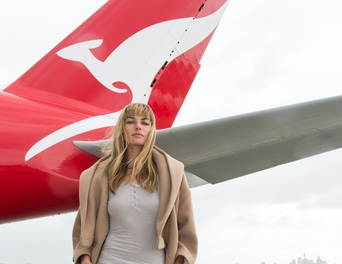 Qantas is teaming up with international supermodel and businesswoman Jessica Hart to connect what's trending in fashion to what Qantas customers can experience in-flight and on the ground.
The Australian-born, New York-based model will become a Trend Consultant to Qantas, in an arrangement that will draw on her knowledge of global fashion and lifestyle trends to work on projects benefiting Qantas Frequent Flyers.
The first of these projects will see Qantas and Hart work with leading Australian scarf designers, Bird and Knoll, to nominate a destination that "Feels Like Home" off the back of the recent Qantas advertising campaign. The destination will be photographed and produced into a limited edition exclusive Bird and Knoll scarf.
Qantas Group Executive Brand, Marketing and Corporate Affairs, Olivia Wirth, said the airline is excited to be working with Bird and Knoll and Jessica Hart to ensure Qantas continues to innovate when it comes to travel and style.
"Qantas has a long history of being fashion forward, from our early uniform designs to our current Martin Grant designed outfits, our Kate Spade amenity kits and our award-winning Marc Newson designed Lounges and aircraft interiors," she said.
"Jessica will bring a fresh eye to some terrific initiatives we are looking at and bring extra style to the Qantas travel experience, starting with the exclusive Bird and Knoll scarves."
"While the scarf is the ideal fashion travel accessory, it will also promote the unique beauty of Australia, and as the country's national carrier, we take great pride in flying the flag for home-grown fashion designers, destinations and talent."
Jessica Hart said she has spent her fair share of time in airport lounges and on Qantas aircraft flying around the world, and is excited to combine her love of flying with her love of fashion.
"Having travelled as much as I have to so many cities, I can honestly say it has inspired my sense of style," Ms Hart said.
"I love expressing myself through fashion and I believe style evolves as a result of different experiences and travel is a gateway to those experiences.
"I am really excited about partnering with Qantas. Contributing to travel style is something I have always dreamed of so I am excited it's becoming a reality.  I already have a number of ideas I can't wait to share with the Qantas team."
The Bird and Knoll Jessica Hart "Feels Like Home" scarf will be launched in September, retail for $298 and will be available through Bird and Knoll stockists including David Jones, as well as through Qantas.com.
About Jessica Hart
Born in Sydney, raised in Melbourne and now based in New York City, Supermodel Jessica Hart is known for her gap toothed smile and effortless style. Discovered at the age of 14 at a shopping centre in eastern Melbourne, Jessica has forged one of the most successful careers of any Australian model.  Jessica has featured on the cover of numerous magazines including Vogue and GQ and has appeared in fashion campaigns for iconic global brands including Guess, Banana Republic, Saks Fifth Avenue and Victoria's Secret. Jessica is currently the face of Australian fashion brand Portmans, and has recently launched her own cosmetic range LUMA.
About Bird&Knoll
The meeting of a fashion mind and a creative eye Bird and Knoll was founded by Macayla Chapman and Natalie Knoll in 2013. Inspired by their love of accessories and travel, they have created a signature brand of luxury scarves using the softest cashmere blend as the "canvas" for their artistic photographic narratives of global destinations, including Bondi Icebergs, the alleyways of Hong Kong and the streets of San Francisco. Stockists include David Jones and www.husk.com.au The scarves are favoured by celebrities including Lindy Klim, Rachel Hunter and Lisa Wilkinson. Further information on Bird and Knoll is available at www.birdandknoll.com