Written by

Rebeccah Shillingford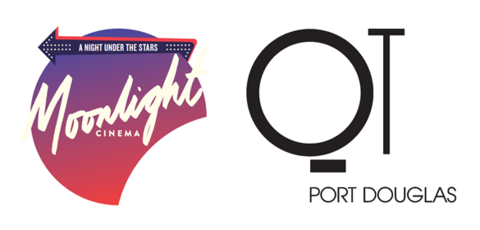 QT Port Douglas has become Far North Queensland's most exciting outdoor entertainment venue again hosting Moonlight Cinema which is returning to Rainforest Grove next month. Get ready to wriggle into those beanbags and soak up the cool night air at the ultimate outdoor playground. Feel free to bring the tribe or snuggle up with your love on opening night Thursday June 16th. Come dressed as your favourite superhero to be in theme with the screening of Captain America to kick off the season. The state-of-the-art outdoor cinema is one of a kind in Tropical North Queensland where film fanatics and holidaymakers can bask in the glow of the silver screen under the open sky.
We are getting excited to fluff the bean beds, manicure the lawns and light up the screen for your entertainment under the stars. It is truly a cinema experience like no other. Cinemagoers can relax and enjoy delicious street food from Moonlight's LA style food truck, snacks from the Candy Bar and drinks from the licensed bar, all within the opulent grounds of QT Port Douglas Resort.
The cinema features a schedule jam-packed with the latest advance previews, contemporary movies and current box office hits at the unique designer resort. The Moonlight Port Douglas 2016 Season will go on sale Thursday June 2nd along with the season's first programme for movies screening June 16 – July 24.
Along with the Moonlight Cinema, QT Port Douglas resort also features a large lagoon-style pool with a chic lawn party atmosphere, including sun loungers and a swim up bar. Offering a modern take on a resort bar, Estilo serves sublime cocktails and tantalising bar food, whilst the Bazaar Interactive Marketplace restaurant is an ocular and gastronomic journey on which there are no rules on which destinations to explore. Taking a playful approach to looking and feeling great designer day spa, spaQ, have perfected the art of unwinding, whilst guests who want to keep active can make use of the separate lap pool, gymnasium and tennis court fitness facilities.
Port Douglas' Moonlight Cinema is located at the QT Port Douglas Resort, 87-109 Port Douglas Road, Port Douglas. Set amongst opulent tropical gardens, the resort is a tranquil oasis that creates the perfect backdrop for the 300-seat outdoor cinema.
Tickets are priced from $13 for children and $17.50 for adults. Tickets are available online at www.moonlight.com.au and at the gate box office.
Gates open at 6.30pm and screenings start at approximately 7.15pm
EARLY START films: Gates open at 5.30pm and screenings start at 6.30pm
A limited number of Bean Beds are available for hire at the cinema for $9 each.