Written by

Peter Styles Minister for Racing Gaming and Licensing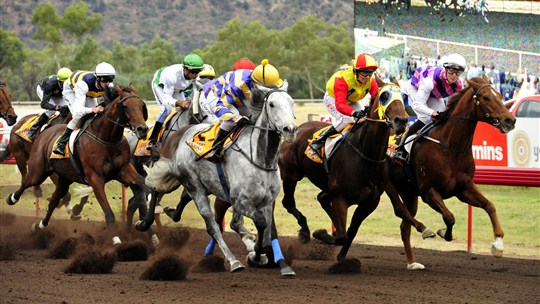 4 May 2015: The main event of the XXXX Gold Alice Springs cup gets underway today, bringing visitors and locals to the red centre for a great event on the Australian Racing calendar.
"This carnival really puts the vibrant Alice Springs community on show, we are expecting a spectacular day of racing in the heart of Australia," Minister for Racing, Gaming and Licensing Peter Styles said.
"The Carnival is one of the biggest regional races in Australia, which is something to be incredibly proud of. It has been a big month leading up to today and I am sure many tourists and locals will come out to enjoy the day.
"Over $1 million in prize money and trophies has been put up by sponsors for the 2015 XXXX Gold Alice Springs Cup Carnival. It is great to see so many industry partners getting behind it.
"The carnival provides a great financial boost to the Northern Territory economy and the racing industry and the Northern Territory Government recognises the contribution the cup adds to the 344,000 visitors who make their way to Alice Springs and the MacDonnell region each year.
"It has been another great year with the McDonalds Young Guns Day. The Chiefs Ministers Cup on Anzac Day, Ladies Day on the opening weekend and the Red Centre Yearling and Tried Horse sale has proved there has been something for everyone in 2015.
"The Northern Territory Government has committed over $15 million through the recent Budget 2015, to assist the thoroughbred racing industry.
"The 2015 XXX Gold Alice Springs Cup Carnival has to date been successful and I congratulate the hardworking Chairman, committee and staff of the Alice Springs Turf Club for their dedication, time and effort in presenting the carnival and wish everyone the best of luck for the big race."
The Northern Territory Government has recently approved reprioritisation of $519,390 of Thoroughbred Racing Northern Territory's workers compensation scheme cash reserves to be used as operational funding and to allow works to be undertaken that improve work health and safety infrastructure and practices.