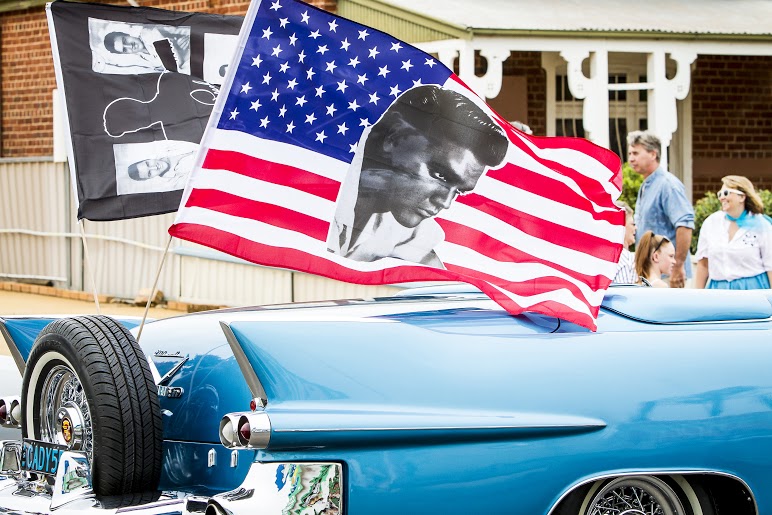 Dust off those blue suede shoes and get ready to rock'n'roll at the 2016 Parkes Elvis™ Festival! Taking place across five days from Wednesday 6 to Sunday 10 January in Parkes, NSW, this year's Festival theme is the Elvis Presley Mexican film classic, 'Fun In Acapulco'. So grab your sombrero and head out to Parkes for a hot and spicy good time, and experience what one of NSW's most vibrant regional communities has to offer.  
The program for the 2016 Parkes Elvis Festival has been announced and it's jam-packed full of entertainment to rock the Central West. Tickets are now on sale to all events including the fabulous 2016 ClubsNSW Keno Feature Concert Series starring leading U.S. Elvis tribute artist Donny Edwards.  
Donny Edwards will perform four high-octane shows at Parkes Leagues Club, showcasing the best of The King's Fifties, Sixties and Seventies sounds. Donny shines with his authentic tribute to Elvis Presley, bringing to life the voice, moves and looks of The King backed by the dynamic eight-piece Elvis In Concert Band.  
For the first time in its 24-year history, Parkes Elvis Festival will stage a preliminary round of the 2016 Ultimate Elvis Tribute Artist Contest, officially endorsed by Elvis Presley Enterprises, Inc. Across the Heats on Friday 8 January and the Final on Saturday 9 January, leading Elvis tribute artists from Australia and New Zealand will battle it out at Parkes Leagues Club, with the winner to represent Parkes during the Semi Final round of the 2016 Ultimate Elvis Tribute Artist Contest in Memphis, USA, during 'Elvis Week' next August. Heats and finals tickets are on sale now.  
The Elvis Express returns in 2016, rollin' its way from Sydney to Parkes on Thursday 7 January with passengers enjoying onboard entertainment from a bevy of Elvis tribute artists. The 2016 Miss Priscilla Dinner on Thursday 7 January sees the sashing of the 2016 Miss Priscilla as the audience enjoys a two-course dinner and show. And don't miss the Sunday 10 January extravaganza, 'The Ultimates', starring the very best Australian Ultimate contestants who have previously competed in world titles contests.
The 2016 Parkes Elvis Festival offers the annual free Festival favourites, fun for the whole family!
Don't miss the Northparkes Mines Street Parade on Clarinda Street Saturday 9 January at 10am. With Elvis-themed floats, Elvis and Priscilla look-a-likes, vintage cars and marching bands, it's the highlight of the weekend.  
In 2016 the Elvis Gospel Service transitions to its new venue, the vibrant Cooke Park Main Stage, on Sunday 10 January at 9am. Reminiscent of a Southern Revival service, Donny Edwards will make a special appearance alongside local choirs and musicians. Following the Service is the beloved Renewal of Vows Ceremony at 11.30am, where couples rekindle their love in Parkes and renew their vows before an Elvis celebrant.  
Talented buskers will line The NRMA Festival Boulevard to wow the crowds and compete for the prize of 2016 Festival Busker. The 2016 Festival's Wall of Fame honours performer and producer Robie Porter ('Rob E.G.'). And if that doesn't satisfy your musical fix, head down to the Cooke Park Main Stage where you can relax, grab a bite to eat at the Festival Markets  and enjoy four days of free all-ages entertainment and competitions.  
The 2016 Parkes Elvis Festival features more than 150 free and ticketed events, shows, concerts and competitions. The 2016 program is now available online and in print pocket-guide format. The souvenir program is available for pre-order and will be distributed in November.  
For all programming and ticketing information, visit
www.parkeselvisfestival.com.au
.
Parkes Elvis Festival
Parkes Elvis Festival is held annually in the second week of January in Parkes, New South Wales, coinciding with the birthday of Elvis Presley. Parkes has a population of 12,000 and is located 365 kilometres west of Sydney. In January 2015 over 20,000 visitors attended the Festival, more than doubling Parkes' population.
The Festival began in January 1993 as a small birthday party for the local newspaper editor. It was so much fun they decided to do it again - and again! Over the following 10 years additional events were added and it became a two-day Festival. With the vision and effort of the voluntary organising committee as well as the support of Parkes Shire Council, the Festival exploded in popularity and word quickly spread across Australia of the fun and unique event in regional NSW.
Following its tremendous success, in 2014 the Festival transitioned management to Parkes Shire Council under a Section 355 Festival Committee. The Festival now regularly attracts visitors from all around Australia and stages more than 150 events annually. In January 2015, Parkes Elvis Festival was officially endorsed by Elvis Presley Enterprises, Inc., the trustees of the estate of Elvis Presley. Official endorsement elevates Parkes Elvis Festival to the ranks of premiere Elvis tribute festivals in the world.
Parkes Elvis Festival is proudly supported by the NSW Government through its tourism and major events agency, Destination NSW.
Content published in collaboration with
MultiViw