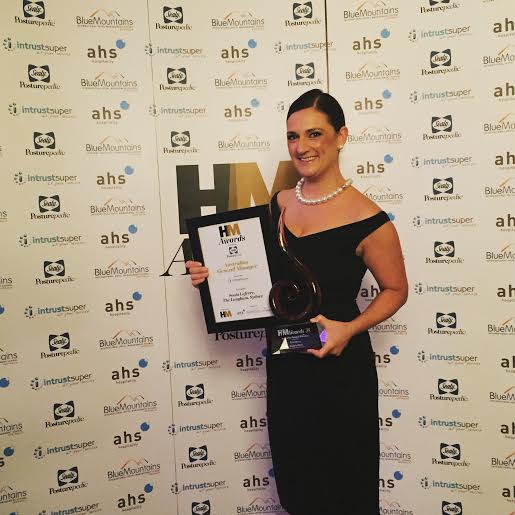 September 2015; Sydney, Australia: Ms. Sonia Lefevre was named the prestigious title of 2015 Australian General Manager Of The Year at Friday night's Sydney Town Hall Award Ceremony for The Annual HM Awards.
"I am privileged to be acknowledged as the General Manager of Sydney's newest luxury hotel, The Langham, Sydney" commented General Manager, Sonia Lefevre.

From the age of 12 Ms. Lefevre spent a considerable amount of time living overseas in Asia with her father's work and from these very first experiences abroad, was captivated by hotels.
"I've been enamoured by hotels from a young age, so it was a surreal moment on Friday night" remarks Lefevre.
Like any journey, Lefevre set a vision from a young age and worked towards that goal.
"I began as a Porter, worked my way up to Reception and Rooms Management; after proving myself in those divisions, I worked across Sales & Marketing, Revenue Management and Operations. I made it my task to learn every facet of this exciting business and focus on applying my business acumen in each role."
When Lefevre was approached to return to Australia for The Langham, Sydney project two years ago, after several years at The Langham, Hong Kong, she says she was flattered to be considered, but was also aware of the level of commitment she would be undertaking.
"I wasn't just arriving as General Manager, but the soon to be Lead Project Manager for a major re-development for one of Australia's key tourism cities" comments Lefevre, who doesn't hide that the four and half month transformation of The Langham, Sydney was an intense time for her and her team with dramatic changes planned for the once traditional Observatory Hotel.
"Career defining and beyond rewarding" is the way Lefevre describes her three year journey with The Langham, Sydney to date.
"From market research, to ROI planning, tendering, developing the design vision, appointing designers and builders, through day to day project management and HR planning – this extraordinary project has encouraged me to use the full depth and breadth of my skill set, and allowed me to tap into new abilities, as well as test myself as a leader."
Ms. Lefevre, spent 18-months researching the Australian market before committing to re-design plans, describes Sydney is a demanding city with high expectations.
"The Langham, Sydney now offers a luxury response to a demanding marketplace which meets very high-level needs; the international design elements alone bring this hotel to the forefront of global interest, while also captivating our local market, who have responded above and beyond to the results".
2015 General Manager Of The Year comes after a string of success only months after doors opening last December.
This includes prestigious US Robb Report's Top 100 Hotels In The World List which saw The Langham, Sydney as the only property featured for Australia and New Zealand. There was also a trifecta win at The 2015 Gourmet Traveller Awards earlier this year that included 2015 Hotel Of The Year and NSW Deluxe Hotel Of The Year awarded at last month's TAA Awards.
"It's an amazing industry to be connected to" says Lefevre.
"Few will ever see the likes of a Doorman, Housekeeper or Receptionist becoming the General Manager of a global brand within 10 - 15 years, but inside hotels, these stories occur every day", Ms. Lefevre comments further.
"Beyond incredible" smiles Australia's newest General Manager Of The Year.