Just go there and watch. Sunday afternoon is crowded but the people become the attraction.
There are views that cannot be described. Take a smartphone or good camera and take lots of pictures because when you get back home you can expand the view and see all the little things that you could not possibly take in with a human eye. What is in that shop window? Who is on that verandah  What is that ship? Who is in the water taxi? What are those people talking about on the ferry? 
Walk around from one end to the other and do it all again. The Opera House forecourt facing Port Jackson is stunning and warm in the Sun. The architecture cannot be described. It is something that a human brain conceived and then, thousands of other human brains made it happen. Study the textures, colours, lines and shape.. Take plenty of pics.
Watch the ferry terminal. Dozens of government green and private enterprise white ferries come and go every hour... it takes an hour to see them all.
On the other side of the water, leading to The Rocks, is the Museum of Contemporary Art in a refurbished government building. Another hour gone there !
The Rocks and the Sydney cruise ship terminal are next.
The terminal faces the water and the view from that side of Circular Quay over water to the Opera House is brain overload. The Rocks is a real suburb that is a one off. Can't describe it because it changes during each hour in every day. Shops, cafes, restaurants and art galleries all thrive under the constant overview of the Sydney Harbour Bridge. It is high in the sky and dominating.
You can take a walking tour of the bridge. Another hour or so gone there.
You can now walk around to Barangaroo. It is a new residential, business and entertainment precinct replacing a concrete cargo wharf. Yet another hour gone there too.
So, if you are new to Sydney they are the Circular Quay basics..
With more time, the second tier "must do" is a ride there and back on the ferry to Manly. "Seven miles from Sydney and a thousand miles from care". The Manly ferries are huge double ended boats with a few levels and all round outside seating. Take the trip to Manly on one side up the front and the return journey on the other. Again, take a camera and keep clicking with lots of megapixels because there is a lot to see that you can't capture but your camera will.
If you are a traveller, backpacker or on a working holiday it is important to have a safe, close to transport comfortable base. It does not have to be the five star variety.
We recommend Jolly Swagman Backpackers.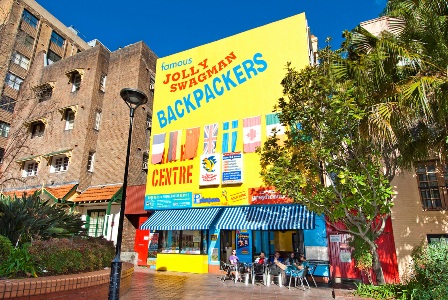 It is in an attractive busy location inner East of Sydney and very popular with travellers.
Stay at Jolly Swagman Backpackers Sydney Hostel and book securely online through
Whats On Australia.


Located 2.4 km from the Sydney Opera House, this colourful hostel is a 5-minute walk from Kings Cross train station and 10 km from Sydney Airport.
The private and dorm-style rooms are bright and basic, and there are shared facilities are on every floor. There's also a women-only dorm. All rooms feature free Wi-Fi and minifridges, while the private rooms add sinks. There's no air-conditioning.
Buffet breakfast is included. There's also a shared full kitchen, a coin-operated laundry and a common room with tables. Free airport shuttle is also available.
Address: 27 Orwell St, Potts Point NSW 2011, Australia
Phone:+61 2 9358 6400
Find out more or
book Jolly Swagman Backpackers here
.
Whats On Australia
MV - Another article published in collaboration with
MultiViw