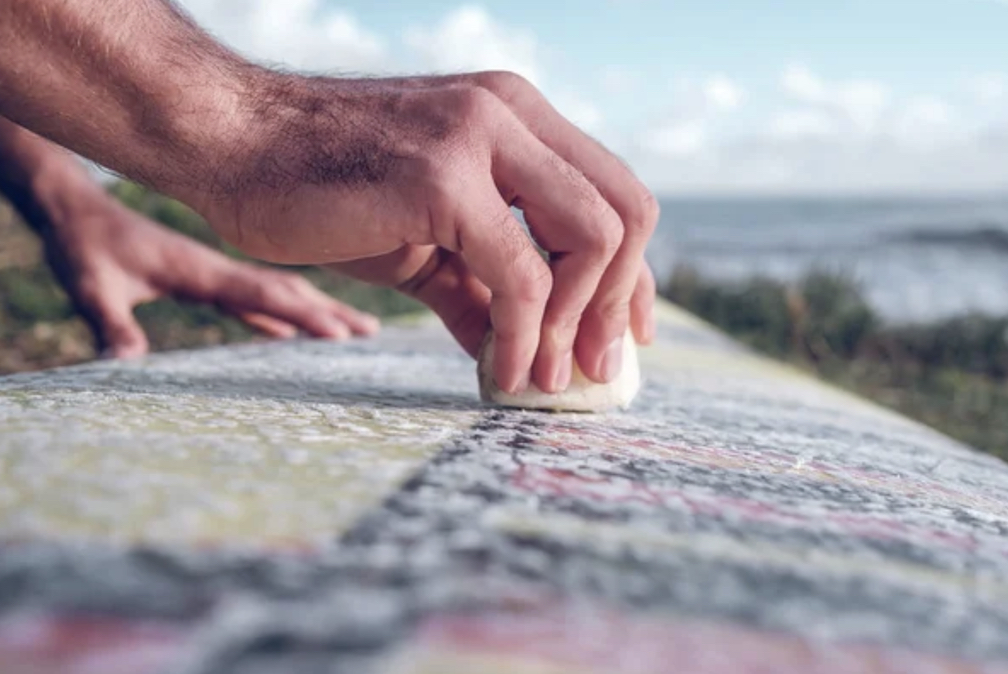 Surf wax is an essential item for any surfer since it provides a tight grip on the board and keeps you from getting off when surfing. This wax is intended to form an adhesive film between the surfer's feet and the board, allowing for maximum control and balance while riding the waves. 
Surf wax is made from a combination of natural and synthetic components and comes in several varieties, including warm water wax, cold water wax, and tropical wax. Surfers can select a wax that is appropriate for the water temperature and their tastes. To ensure maximum grip and performance, apply a fresh coat of wax to the board before each surfing session.
Using Base Coat Wax

Using a base coat wax is a sophisticated method for experienced surfers. Base coat wax is a tougher wax that is applied to the board before applying standard surf wax. The base coat wax acts as a foundation for the standard surf wax, improving grip and durability. Base coat wax can help experienced surfers improve their board's performance and provide a better surfing experience.
Applying the Wax in a Crosshatch Pattern
Another advanced technique for experienced surfers is to apply the wax in a crosshatch pattern. This technique involves applying the wax in a diagonal pattern across the board. The crosshatch pattern creates more surface area for the wax, which provides better grip and traction on the board. This technique is ideal for surfers who are looking for a stronger grip and want to maintain control during their maneuvers.
Creating a Traction Pad
Experienced surfers can also create a traction pad on their board using surf wax. A traction pad is a specific area on the board that is waxed heavily, providing extra grip and traction. To create a traction pad, surfers should apply a thick layer of wax to the back of the board where their back foot is positioned. This will help to keep the back foot in place during maneuvers and provide more control during turns.
Using Temperature-Specific Wax
Surf wax is designed to perform optimally in specific water temperatures. Experienced surfers can benefit from using temperature-specific wax, as it provides better performance in various water conditions. For example, if the water is colder, surfers should use a harder wax that provides more grip and traction. Conversely, if the water is warmer, surfers should use a softer wax that provides a smoother glide.
Using a Comb
Another advanced technique for experienced surfers is to use a comb to remove old wax from the board. A comb can remove the old wax from the board, providing a clean surface for new wax to be applied. This technique is ideal for surfers who want to change the wax on their board and want to ensure maximum grip and traction.
Applying Wax to the Rails
Experienced surfers can apply wax to the rails of their board to improve its performance. Rails are the edges of the board that come into contact with the water during maneuvers. By applying wax to the rails, surfers can improve their board's grip and control during turns and maneuvers. This technique is ideal for surfers who want to improve their overall performance and maximize their potential in the water.