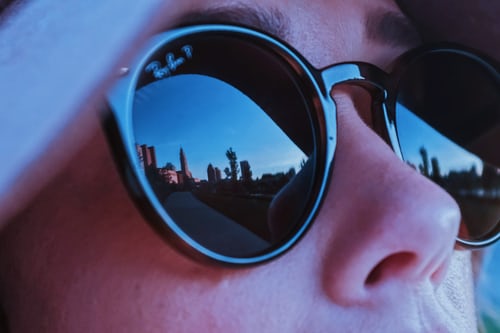 "Of all the senses, sight must be delightful, " according to Helen Keller, the accomplished American author, political activist, and lecturer in the 1800s. Blind and deaf since she was 19 months old, she knew of the joy and delight the eyes can bring to one's life. Our eyes are indeed precious, and they need to be protected from harmful elements. Moving about, doing our daily routine or more complicated tasks would be an ordeal or even impossible without our eyes.
Aware of this fact, different protective eye gear like the now commonly used
safety goggles
had been devised and used over the years. The materials used vary, and their designs have evolved to give better protection and convenience. Here's a peek at some interesting goggles used in the days of yore. 

Early goggles designs and features
The Inuit and Yupik people from the Arctic regions needed to protect their eyes to prevent snow blindness as they moved about the snowy tundra. Tough and resilient caribou antlers that were readily available, combined with wood, and shell were used for the goggles they wore. These carved to fit goggles had a long horizontal slit in the eye area through which just a small amount of light can pass through. Caribou sinew was used to hold the goggles to the head to keep it snug.
In the 14th century, the first swimming goggles were invented in what was then known as Persia. The need to use something that is both transparent and waterproof has led to the design of a protective eye gear using polished seashells. The popularity of this swimming goggles in the Middle East stayed on for two centuries.
Polynesian skin divers, on the other hand, had their version of swimming goggles. It had deep wooden frames that trap air to maintain visibility and protect the eyes from the harsh salty seawater as divers take the plunge and move underwater. With the coming of the Europeans, a modification of the goggles incorporating glass into its design was made. The resulting goggles, however, were not fully waterproof, not fitted snugly and were dislodged or fell off upon diving or swimming about.
With advances in air and land travel in the early 20th century, safety goggles were also designed to protect the eyes of the drivers and pilots. Early car designs did not have roofs, and aeroplanes did not have enclosed cockpits for the pilots. Car drivers and pilots were then exposed to the drying and distracting effect of the wind and dust and other irritants in the air. Goggles for driving and flying in those days were made of soldered pieces of stamped and milled metal and glass.
Today's safety goggles
Goggles have gone a long way in terms of design and comfort. Gone are the days of heavy metal, wood, glass and animal shells and antlers. Polycarbonate is now the material of choice of most safety goggles manufacturers. This material weighs less than half the weight of glass and is impact-resistant. These properties make it a wise choice to ensure that today's goggles are safe while providing optimum comfort to their users. Today's goggles likewise have better seals that result in better protection from outside elements. Designs of goggles also vary to suit the environment and industry where they will be used.
Ester Adams is a farmer of words in the field of creativity. She is an experienced independent content writer with a demonstrated history of working in the writing and editing industry.  She is a multi-niche content chef who loves cooking new things.