Written by

News Feature Team
No matter where your New Zealand road trip begins or ends, your journey will be one that you never forget. First, find a
campervan hire
for this bucket list journey, which can weave you through the Southern Alps, take you along the North Island beaches, or bring you alongside glaciers on the South Island. So, practice driving on the left-hand side of the road, load up the campervan, and start exploring some of these unforgettable New Zealand destinations.
A Coastal Road Trip
The North Island beaches are an ideal destination if you're looking for a drive up and down the New Zealand coast. This coastal road trip can span up to 828 miles, taking you from Auckland Central to Wellington Central. Auckland boasts a relaxed coastal vibe along with a vibrant nightlife, giving you plenty to do during your stop. In addition to dining and shopping, check out the Auckland Zoo or enjoy panoramic views of the area's 48 extinct volcano cones. Stop in Waiwera, where you can explore this village's hot springs. When you hit Paihia, hop aboard a cruise to the Bay of Islands, where you can swim with dolphins, go fishing, or explore on a sea kayak tour.
A Journey to Middle Earth
If you're a fan of The Lord of the Rings, you just might want to drive your campervan into Middle-earth. Explore the more than 150 locations where the movie was filmed, and check out some unforgettable sights along the way. Matamata, which is south of Auckland, is home to Hobbiton, where you can take a Hobbit tour to explore the well-crafted hobbit holes scattered throughout this village. Then, travel to the Waitomo Valley, where you can head underground and explore sinkholes, caves, and even rivers that sit beneath the earth's surface. A walking or boat tour is the best way to explore. Add some nautical adventures to your Middle-earth journey by visiting Lake Taupo, where you can take a boat cruise to the Maori rock carvings or go sailing, fishing, or water skiing.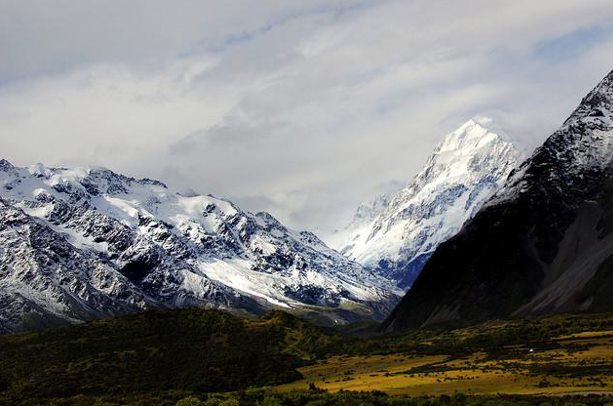 Image BY Bernard Spragg.NZ via flickr.com under a Public Domain
Mountains and Glaciers in the South Island
The South Island offers a remarkably different landscape than other areas of New Zealand. Your road trip will expose you to everything from mountains and glaciers to fjords and alpine lakes. Start in Christchurch, the South Island's largest city, where you can bike in the Port Hills, explore the Botanic Gardens, or stroll through boutiques and open-air markets. If you head across the South Island, you'll weave through rural landscapes and mountainous ski areas before hitting Greymouth, a gold-mining town, where you can explore the local museum or grab a pint at a brewery.. Along the island's west coast sit two glaciers—the Fox and Franz Josef Glaciers—which are breathtaking. Go on an ice-hiking adventure, see the glaciers up close, or stop at nearby glow worm caves for some serious exploring.
Conclusion
New Zealand's landscape truly has something for everyone, whether you're looking for coastal charm, middle-earth adventures, or mountainous terrain. No matter your destination, your road trip will allow you to experience some of the country's most scenic spots, vibrant culture, and unique natural formations. Pick the right itinerary for your interests, and hop on an Apollo campervan and enjoy a bucket-list-worthy road trip.