Written by

Corrie Gardner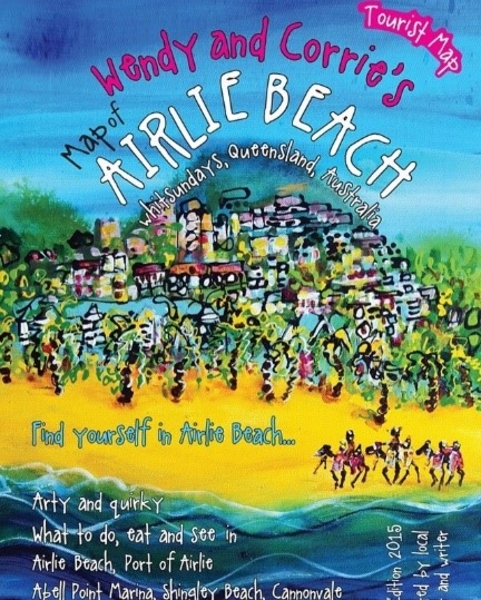 In order to give tourists the best experience of "living like a local", two local Whitsunday women have created a colourful and informative insider's guide packed with their tips and recommendations for Airlie Beach and the Whitsundays.
Wendy Eriksson and Corrie Gardner spent a year painting, designing and putting together an intricate map with all the information a visitor would need to make the most of their Whitsunday holiday. Along with Wendy and Corrie's Map of Airlie Beach, they have now created a range of colourful souvenirs including prints, cards and magnets which capture the unique characteristics of this gorgeous Queensland seaside town.
Corrie Gardner says, "our goal was to share our local knowledge and make everyone feel the same level of hospitality you feel when visiting friends. Our map adds value for visitors and gives them a local's perspective on the town and also a quality souvenir to keep or pass on to other friends coming to visit. For people staying in self-contained accommodation, our guide provides all the information needed at your fingertips to make decisions about what to do for entertainment, where to eat, where to shop, right down to getting a haircut. The guide helps visitors to maximise the quality of their Whitsunday experience."
With the TEQ "best address on earth" campaign rolling out, including the branding of 'living like a local' these products perfectly reflect the Queensland research that shows travellers want to be made to feel welcome and want unique, authentic experiences. Wendy and Corrie's Map of Airlie Beach helps people feel like a local and gives them a personalised insight into discovering the best of the Whitsundays. Strong use of social media including Instagram and Facebook @airliebeachmap enhances the guide and provides Wendy and Corrie's latest finds, updates and suggestions.
Prints, magnets and gift cards are all easy to pack and enable tourists to take home a hard-copy of their memories. All items are available for purchase in many of the local tourist and gift shops or online www.airliebeachmap.com.