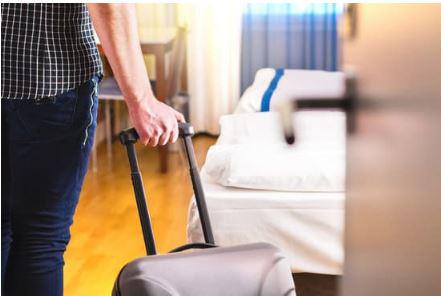 Follow these simple tips to save your time and money, and get rid of any unnecessary stress!


Travelling is one of the best things to enjoy in life. However, while many of us may think of it as a source of leisure, it may become stressful. There are many things to arrange and organize, plus many others to keep in mind. Nevertheless, with some great travel insight, you can reduce, if not remove, the stress that may be involved. You could also save you time and money.
It could be hard to leave a hotel room, particularly if it was a lovely suite that was your home for the past few days. To ease out this process, you need to be a smart traveler who has a mental to-do list to follow and beat the blues that come with the realization that vacation time is over and it is time to return to the real world. Here are some things that you can do before you leave your hotel room:
Clean it up
Yes, we know that the housekeeping staff will be cleaning the room as soon as you leave it. However, tidying it up a little before leaving just makes you seem like a decent, well-mannered person. It is not that rubbish removal is a problem for the hotel management, but folding a blanket, or keeping the cushions back where they belong won't hurt!

Get your shoes out of the safe
Many of us tend to forget something important in the safe, and we have the best solution to this problem: keep one of your shoes inside it! When you are heading out, you are bound to feel the need for your second shoe, and voila! There you have the reminder to go to the safe. This way, you won't forget your passport or any other valuables in the safe.

Take a few photos of the minibar
Nobody likes seeing unexpected hotel charges on their credit card bills. This is a possibility if the management of the hotel where you stayed ends up charging you some extra bucks for damages to the minibar or the room. What to do? Well, remember to take before and after pictures of the minibar and the room, and tell the staff about any damage that you can find. This way, the hotel management can know that it wasn't you who consumed all the expensive wine or broke something (unless, of course, if you did – in that case, honesty is your friend!)

Get hold of the freebies
No, you don't need to feel embarrassed about this! You can enjoy all the freebies that you can get – from the toiletries (that you used partially) to the magazines, bottled water, monogrammed pens, or even fresh fruit. Just one precaution: don't forget to check that if any of those items are going to be charged. It goes without saying that you cannot take the big-ticket items like the umbrellas or robes with you.

Check the shower
Many people don't consider peeking in the shower while they are gathering their belongings. It is common to forget things like an expensive shampoo or a favorite facewash behind. The real irritation comes when you realize this after reaching home, especially if it is not possible to replace the products immediately. Here are other places to check – under the bed and in the closet. Also, look for any charges that you may have left plugged into the wall outlets.

Tip housekeeping
Make sure that you remember to leave some cash as a tip for the housekeeping staff. You can leave this money at the front desk, but a better way to go about is to leave it in the room so that you can ensure that it went to the right person. You can be a little nicer by adding a thank you note for a personal touch.

Request to stay longer
Generally, you can't decide whether you can check out later until the final day when you are to leave. This is when the front desk can know exactly how many rooms will be occupied. In case all the rooms have been booked, you will need to leave the room immediately so that housekeeping staff can clean it for the next guests. However, if a couple of rooms are not going to be filled by guests, this means that you may have the option for a later checkout. It is worthwhile to give the front desk a call to ask if you can hang out for a few more hours in your nice hotel room.

Review your bill
You can review in the bill peacefully in the privacy of your room through the hotel folios which may be available as the electronic version on the TV or inside an envelope that is slipped underneath your door. Not only is this easier for you, but reviewing the bill while you are in your room also increases the chances of you clocking any discrepancies as opposed to trying to do that in a crowded, noisy lobby while the front desk staff watches you.

Book a car
One of the most affordable ways to commute to the airport is to request a car from a ride-share service like Uber. You can request before you leave your room so that you can find the car waiting for you at the curb when you walk out of the hotel. This way, you can save yourself from much stress that comes due to overpaying for an expensive hotel car service or wasting time while waiting for a taxi to be called.

Get that one last picture
It is a good idea to take one last photo of the room or anything that made the room special to you. No, it doesn't have to be a perfect, Instagram-worthy snap. Just capture a general view or whatever you enjoyed in the room so that these snaps can bring a smile to your face next time you stumble across them while mindlessly going through your phone's picture gallery. These pictures can also help you add visual elements to your vacation stories that you are going to narrate to your family and friends back home!
Conclusion
So, whether you are on vacation or traveling for work, make the most of your trip and use these pro tips to avoid any unwanted hassle. Pack your bags right and make sure that you have everything done before you decide to leave your hotel room. You might just fly to another place and it can get really hard for you to get your stuff back if you forget something. Happy traveling!